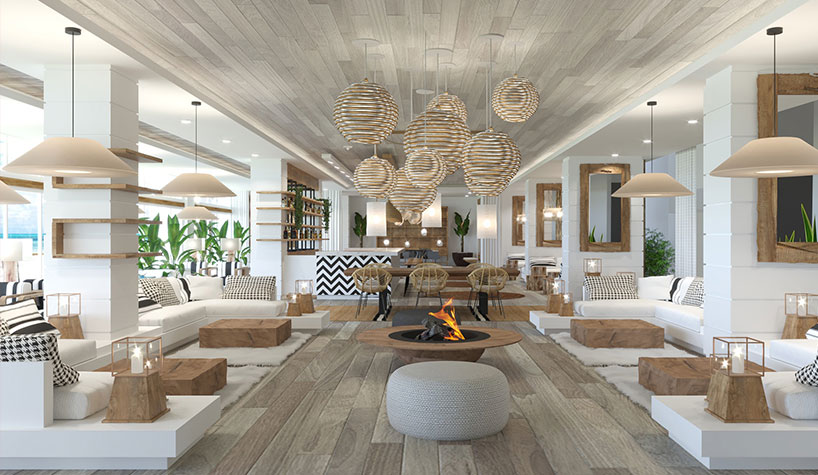 Instagram has totally shaken things up for businesses of all sorts, and the hospitality industry is no different. Now, beach resorts are doing everything they can to make their spaces photogenic. 
These days, travelers want nothing more than to snap some Insta-worthy shots while on vacation. If you're an interior designer who wants in on this trend, there are some things you need to think about when working on a beach resort project. 
In the following article, we'll explore what it takes to create a space that's worthy of being featured all over Instagram. This includes picking out just the right colors and materials, as well as crafting layouts that pop!
An Authentic Connection to Location
When designing the interior of a beach resort, it's not just about making things look pretty. To really create something special, you've got to draw on the local context – all those unique cultural elements that make this place one-of-a-kind. 
From traditional crafts and materials to nods to local traditions and natural beauty, many design choices can bring a sense of authenticity to the space. When guests see these details in their rooms and around the property, they'll feel like they're more than just tourists taking generic photos. Instead, they'll want to share how much they love everything about your resort across social media!
Harnessing the Power of Natural Light
When you're designing a beach resort that's all about Instagram-worthy photos, you've got to make sure you use the thing people want most in those pictures: sunlight! Big windows and open spaces will flood each room with natural light, making it an ideal spot for taking stunning snaps. 
And if you really want things to pop, go with lighter colors. They'll give everything a sun-kissed glow that guests can't help falling in love with. When your resort is full of these bright and airy spaces, everyone who visits will just have to show off how amazing everything looks on their social media feeds!
Stylish and Functional Spaces
Don't let your search for style overshadow the importance of making a space that really works! To make sure you're striking just the right balance with your beach resort design, it's good to keep functionality top-of-mind. 
Guests always appreciate trendy and comfortable furnishings. However, they also need things like thoughtful layouts and practical amenities to feel truly at ease while on vacation. And don't forget – having Instagrammable spots around the property is key too! 
From lobby areas that are both chic and inviting to pool decks where people can splash around or chill out in comfort, each spot should be arranged so guests will want to stick around. They can capture all their favorite moments with photos galore!
Attention to Detail
When it comes to creating a seriously amazing beach resort, the secret's in paying attention to those small yet impressive details. That might mean incorporating totally unique design elements. Whether you're going for custom-made light fixtures or displaying an art collection, it's all about creating a one-of-a-kind aesthetic. 
Either way, adding these extra special touches will not only boost the overall vibe of your space but also give guests something that they can't find anywhere else. They'll definitely want to share with friends and family back home! It's those tiny features that make them feel like this vacation is truly tailored just for them.
Conclusion
All in all, if you're trying to create a beach resort interior that's going to be Insta-famous, it takes some serious planning. You need to be on top of current social media trends and make sure every aspect is carefully thought out and executed perfectly. Also, always keep the spirit of your location front-and-center in everything you do. 
If you can manage all these things as an interior designer, you'll end up with much more than just any old hotel. This will be a space guests can't help but share online because it captures their best moments while they are away from home!